I've been blogging for a little while now and since I've been blogging, I've seen Bake Me a Wish cakes featured everywhere! My mouth literally waters every SINGLE time I see the photos of their cakes. They just look so delicious. I'm thinking about getting a Carrot Cake one for my fiance because he always loves reviewing peoples Carrot Cakes and is VERY picky when it comes to that.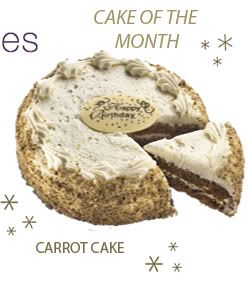 I'm also trying to win one and you can too at
Table for Five
. Hurry because the giveaway ends tomorrow!